Thanks as always to
ace_of_spades6
who is my permanent squeeing partner!
1) Crowley in an apron. Oh, clearly this is the Cooking With Crowley show. What is he making? Oh, fresh babies. Someone has let him know Lilith is no longer taking orders, right? Now I want fic where Crowley is Lilith's faithful chef.
2) I want a Crowley head for my bathroom. To stare at me reproachfully if I don't brush my teeth.
3) Oh, that's great. Dean goes for the liquor and SAM collapses.
4) Oh hai thar brother bondage.
ace_of_spades6
mentioned that she was sad they weren't back to back. I rather like the idea that they can get an eyeful of each other all tied up. The first boner of the night did not belong to Castiel.
5) Think there was enough boundary-pushing on the sex front tonight? Seriously? "Satisfy me or I'll please myself?" Fff.
6) Reasons I like Robo!Sam #23950: he is a SMART Sambot. Very, very clever.
7) Oh, the Sam/Cas scene. The Sam/Cas scene! Closest I've ever come to shipping Sassy!! And Cas you are so dorky.
8) I loved how Sam was totally sticking it to Dean."This is what friends do for each other." Fuck you and your profound bond. (meanwhile with the proverbial gun in Cas's back) THIS IS TOTALLY VOLUNTARY. LOL.
9) I love I love I love that Dean is the one making the emotional arguments now. Is it coincidence that I like him more now than I ever have before? I've NEVER been a Dean girl. And yet here I am, FFFFing at him. It's either that he's effectively switched places with Sam, or just that Jensen's getting hotter every fucking DAY. Or, you know, both.
10) Awww, HI AMY!!!!!
11)
ace_of_spades6
quote of the night: "
THINGS
NEED TO HAPPEN LATER ON WHEN SAM IS PUPPY AGAIN." Seconded. XD
12) And then I fell off my chair and died.
A lot.
A loooooooot.
Oh, my GOD.
CASTIEL.
you perfect, perfect, wonderful creature.
WITH A BONER SO BIG DEAN COULD SEE IT FROM HALF A ROOM AWAY.
ffffffffff.
"perhaps she's done something wrong."
be mine.
13) Dean: You don't watch porn in a room full of dudes.
Castiel: You do if you're a gay angel.
14) At this point I'm dead and I don't need the rest of the episode. at all.
15) And then in comes Grandpa. "We're not supposed to talk about it." Like the profound bond. And then Cas who is sort of looking down looks up again with this guilty expression like "Um? Dean? I jizzed my pants."
OK, four comments about the porn scene is enough. Moving on.
16) YAY "CLARENCE." AS AN IT'S A WONDERFUL LIFE FAN THIS MADE ME SO HAPPY.
17) Sam is just a fucking badass now. I absolutely love it.
18) "I want him to survive." Wow, this ep is REALLY bringing the Sassy. But I do notice that Castiel is a lot more relaxed around Dean. And they get close and talk and have the eyesex and <3 <3 <3
19) I absolutely love the "hurt" eyes Cas is giving this season. They break my heartttt. And Cas needs to smack Dean around for treating him like he's their pet. But at the same time Cas kind of wants that, he likes the idea that Dean and Sam care about him and want him to be there for him.
20) Cas was incredibly pretty this episode.
21) YES, MEG, I WANT A GODDAMN CUPCAKE.
22) yeah.
Just.... YEAH.
Watched it about four times.
Paused it. Fffffffffffffffffffff.
SO HOT.
DEAD NOW.
BBL.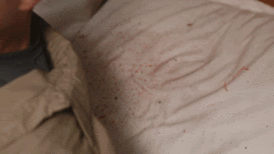 23) What did she say? "It feels so" what? Also, Cas was totally checking out her rack afterward.
24) I'm not allowed to comment on the Dick Cheney reference because of my employment. Please consider the implication of your choice made.
25) At one point and I had a conversation along the lines of:
Ace: I HATE SHOW RIGHT NOW.
Me: I love it.
Ace: No, I love it, I'm just mad at it.
Me: Being mad at is is sort of part of the experience of loving it.
I think in a way that's the piece of this show that's most important. It makes you mad at it and you still love it. That's a very rare quality in a show, and they pull it off consistently. This is why I'm so fucking impressed with this show constantly.
26) When Dean said "You want to know who I am?" I wanted him to continue, I'm Dean WINCHESTER. Not Campbell. WINCHESTER." As my bb
ace_of_spades6
said, Sir needs to just come back and fuck everybody up.
27) "Whatever gets you through the night" - Oh DEAN. <3 Boys are more badass than ever, honest to god.
28) First alistair, then Christian... what is with the stripping demons but for their leather straps? See, this is why I never bought the argument that angels were junkless. Demons are very obviously genderified.
29) OH MY GOD SAM BITING HIS ARM SCARED THE FLYING FUCK OUT OF ME. I THOUGHT HE HAD BIT HIS WRIST AND I HAD SUCH A FRICKING FLASHBACK. But he was just being badass as usual.
30) I LIKE SAM BANGING THAT POLE AROUND. Oh, did that sound wrong? *innocentfais*
31) God, this show is going through Campbells like... well, like it usually goes through girls. Bai Christian. Grandpa? Totally not going to survive the season.
32) "Crowley."
"Whore."
Strangely enough this is also how he greets Bobby.
33) Meg: "And here i thought you just grew some balls." Well, that too. <3
34) "Mopheaded lumberjack" joins "moose" in the wonderful lexicon.
35) I REALLY want them to go to hell this season. Like, break in and fuck up hell and take Sam's soul back. Never mind that that's how my alternate Season 6 ends, well, not with the soul thing but they go to hell ... fff. NM.
36)
. . .

THIS IS NOT REAL.
THIS IS NOT REALLY HAPPENING.

CROWLEY

you were loved, bb.
37) What happens to the purgatory thing now that Crowley's dead? Is that storyline just gone?
38) Obv. Cas is still gay. "Why would I want that?" lol he has no idea. hahah.
39) "I'd rather be here."
YES.
YES.
CAS. BABY. COME HERE SO I CAN GIVE YOU A HUGGLE.
I'm SO glad they're going there with him. It's such a fab character development thing and has such promise. Plus, more hurty-eyes.
40) Sad ending. But nothing they won't get past. This is them. I have faith. After all, they saved the world together.
41) The 6x11 preview was awesome as usual, Death is still a fierce bitch, and I'm looking forward to this shit!!!
42) I LOVE YOU, SHOW.
Have at it, kids!