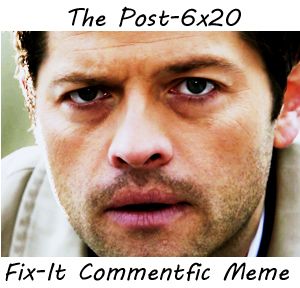 Last night's episode of Supernatural left a lot of us with holes burning in our hearts. Relationships needing to be repaired, misunderstandings needing to be cleared up, cross purposes and priorities needing to be put straight... So here is a chance to get some closure while we wait for the season finale.
The Rules:
1) Leave a comment with a prompt or an idea.
2) Respond to others' comments with fic.
3) Any pairing or no pairing is welcome. Het or slash. Comedy, romance, fluff, drama, angst, even tragedy if that's what you're looking for.
4) Please leave feedback for fics that you enjoyed reading!
5) PIMP THE CRAP OUT OF THIS AND SHARE THE GOOD FEELINGS!
6) No wank or ship wars. Whining about how the ep made you sad is fine, but nothing that could be interpreted as an attack on other fans or ships.
7) Anon is OK. Smut is OK.
8) Feel better!
Pimping Code: