Seriously, my handwriting is so bad and my thoughts so disjointed on this that I hardly know what to do.
BIG LONG LIST OF THINGS MATT AND MO SAY/DO TO EACH OTHER THAT MADE ME SORT OF DIE:
1) Mo, to Matt: "It's a huge risk being out in the open." (But your love is so obvious even when you hide it!)
2) Mo gets in the back seat of the car. Where both Peter and Matt like him.
3) Mo, to Matt: "How far are you willing to push?"
4) Matt, to Mo: "Do I have your permission to go back in now?" (At which point, Mo bends over silently and Matt looks determined)
5) Matt and Mo screaming fight: "You think you deserve to be hunted." "I could say the same thing about you." "This is not about Daphne!" Unsaid: it's about YOU, you BITCH!!
6) Matt GRABS Mo on the way to the nightstand (to get the lube), and Peter offers to leave them alone. With tied-up Noah.
7) Next scene starts with Matt washing
the cum
off his face.
8) AND THEN THERE WAS THE SCREAMING FIGHT OF WIN AND AWESOME WITH THE CRAWLING ON TOP AND THE DESPERATE PASSIONATE EXPRESSIONS AND THE TIPPY DIED.
9) Mo gets behind Matt who is entering Noah from behind, has a jealous fit, and tries to pull him off.
10) AND THEN MOMO SACRIFICES HIMSELF FOR MATT. OH MY GOD I LOVE MY SHOW SO MUCH.
OK. Time for non-crazy-ass meta:
1) Angela has got some damn fine legs for a grandma. I'm kind of shipping Nangela at this point.
2) I'm definitely disappointed that this turns out to be Noah's I-wanna-be-a-super-spy again angst trip. It's completely OOC for the Noah we know-ah and love. "What are you supposed to do now?" Take
hedgehog39
's advice: Get a hobby. Watch Monday night football like all the other guys your age. Poor Noah, all he is is dust in the wind, dude.
3) O HAI THERE TUXEDO NATE. In other costuming news, Danko is a bad ass. You can tell because he wears a leather jacket.
4) Loved the transition from uber-sexy Nathan to uber-sexy Peter. Oh Nathan, you are so adorable when you've been totally one-upped. Oh, Peter, you are so adorable when you
are.
5) Jenny and Ken? Dear God, no WONDER Noah doesn't want to go to dinner with them.
6) Nathan wanted to meet Noah at home when Claire wasn't around to see. Do I even need to SAY it? Hope Matt didn't take a detour into ten minutes later. And I hope Sandra was busy in the laundry room or something. Sitting on the washer most likely.
7) So am I right in thinking that Nathan's basically the
Edna Mode
to Noah's
Mr. Incredible?
8)
hedgehog39
had two excellent comments on HRG's Warehouse O' Arms:
a)
Sousuke
would shit his pants.
b) HRG: "Oh yeah, it's my storage space, I share it with these two guys who own an impala, we go in half-and-half on the rent..."
9) Also thought of by
hedgehog39
: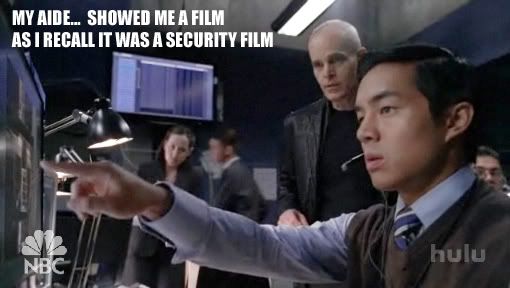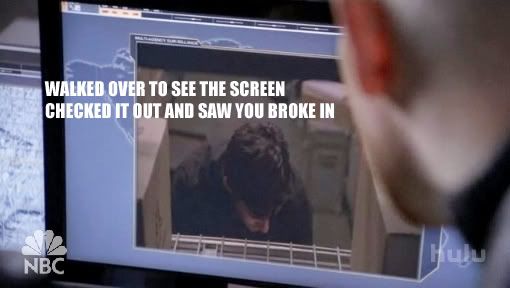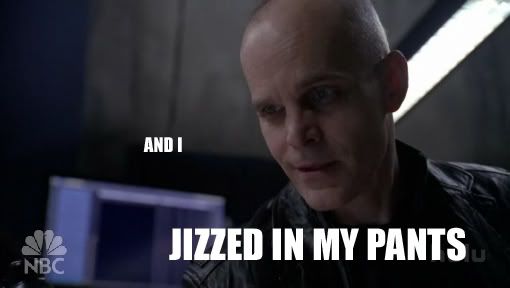 See why I married him?
10) Matt and Mo are worried that Peter isn't home yet. They've done it like three times. Mo's dick is starting to hurt, and Noah's lips won't move anymore. :D :D :D :D
11) THAT'S RIGHT, USE DUCT TAPE. KINKY.
12) Noah/Danko flashback is full of squee. Noah brings him wine (but no roses); Danko says he won't dance with him. I mean, SERIOUSLY. This show is falling all over itself with fan service.
13) OH MOMO YOU BITCH. LIEK SRSLY.
14) Danko: "How did you get here so quickly?"
hedgehog39
(as Noah): "What can I say? I come fast."
15) Matt (as Peter lifts off with him): "Hmm, Peter, you're much better at letting me ride you than your brother was."
16) OH SCRAGGLY WET MOMO I COULD JUST EAT YOU LIKE A BISCUIT DUNKED IN GRAVY.
17) Great twist at the end. Not helping my budding ship of Nangela, though.
18) How many Season 1 line references were there in this ep? Morally gray? Middle management? Seriously seriously seriously, this show is off the rails on the fan service front. THIS IS NOT A COMPLAINT.
Thoughts? Cease and desist orders? Bring 't.