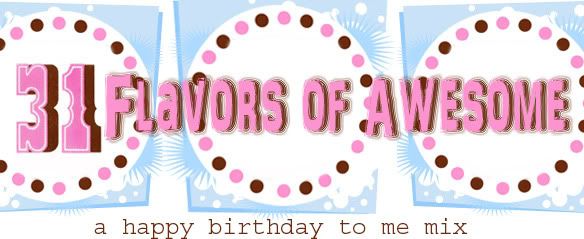 I tried to choose mostly English tracks so everyone would be able to enjoy them. This partially accounts for the glut of music from 1989. Partially. Heh.
Enjoy.
1) It's All Been Done - Barenaked Ladies

I love the idea of lovers meeting again and again over time
Alone and bored on a 30th century night
Will I see you on The Price Is Right?
2) Waiting for a Star to Fall - Boy Meets Girl

I've always had an unreasonable love for this song
Trying to catch your heart is like trying to catch a star
So many people love you, baby
That must be what you are
3) What I Am - Edie Brickell and the New Bohemians

Not the worst philosophy to have
I'm not aware of too many things
I know what I know, if you know what I mean


4) Eternal Flame - Bangles
If this song doesn't make you wibble, you have no soul
Say my name, sun shines through the rain
A whole life so lonely and then you come and ease the pain
I don't want to lose this feeling
5) Jack and Diane - John Cougar Mellencamp
An American love story
Hold on to sixteen as long as you can
Changes come around real soon, make us women and men


6) LAILA - Misia (Japanese)
Love the beat of this one
Laila, Laila, reflecting in these eyes
Laila, Laila, touching with these hands
In a world where nothing's certain


7) Hope the Weather's Good Today - Do As Infinity (Japanese)
This song is CRAZY energetic
The sun is laughing
We're no good, no good
In the fantastic summer we're running away
8) Here - Sakamoto Maaya
I see jaded former Hollywood starlets looking at the next generation
Here I am, I've walked the promise
But it can take so long
Here I am I've walked the shadows
It's time that I moved on
With myself I share the silence
I just walk along
9) Paradise by the Dashboard Light - Meat Loaf
I used to act out this song with my high school boyfriend at dances. It was fun
There ain't no doubt about it, we were doubly blessed
Cause we were barely seventeen and we were barely dressed
10) Paperback Writer - The Beatles
This is just about as pathetic as my current aspirations, but hey
Dear Sir or Madam, will you read my book?
It took me years to write, will you take a look?
It's based on a novel by a man named Lear
And I need a job, so I want to be a paperback writer
11) It's a New Day - Jennifer Cihi
I want to wake up every day of my life feeling this way
Got up this morning
On the right side of my bed
With all these crazy thoughts
Screaming through my head
I can't wait to see
What this world holds for me
12) Honey Bunny - Sakamoto Maaya (Japanese)
I love the attitude she cops in this, and great jazzy beat
When you can't sleep, count them
when you close your eyes, honey bunny
I don't mean counting sheep--
Count the words of love I've given you.
There's no way, no way you can count them all in one night!
13) Gimme Gimme - Sutton Foster
Another good life philosophy to have!
Here I am, St. Valentine,
My bags are packed, I'm first in line
Aphrodite, don't forget me,
Romeo and Juliet me!
14) Imaginary - Evanescence
I used to build worlds around myself too
Let me stay where the wind will whisper to me
Where the raindrops, as they're falling tell a story
15) Look Away - Chicago
I fell crazy in love with this song when I was ten
When you called me up this morning,
Told me 'bout the new love you found.
I said I'm happy for you,
I'm really happy for you...
16) On My Own - Frances Ruffele
My ultimate favorite song in the entire freaking world forever
In the darkness the trees are full of starlight
And all I see is him and me forever and forever
And I know it's only in my mind
That I'm talking to myself and not to him
17) Angel Voice - Fire Bomber (Japanese)
This is just beautiful and inspiring... too bad about the random dialog at the end
I've been called a fool for it, but the dream I had that day hasn't changed
Angel Voice, I found it beyond the horizon
Lit up and sparkling
Your appearance wasn't a dream
18) Africa - Toto
I love how this song tries so hard to be EPIC
I stopped an old man along the way
Hoping to find some long forgotten words or ancient melodies
He turned to me as if to say, hurry boy, its waiting there for you
19) NO FEAR - Ai Suru Koto - Sakamoto Maaya (Japanese)
One of the most beautiful, vulnerable performances of Maaya's career
Even so small, I'll be here for you
I'm so frightened, but it'll be all right
That road will surely continue on
Even if you're scared, it'll be all right
To love, to dream, I no longer fear
20) Listen to Your Heart - Roxette
This song got me through many an adolescent night
I don't know where you're going and I don't know why
But listen to your heart before you tell him goodbye
21) Amazing - Aerosmith
I know EXACTLY the moment he's singing about - I experienced it at 18 and it changed me completely
It's amazing, when the moment arrives that you know you'll be all right
It's amazing
And I'm sayin' a prayer for the desperate hearts tonight
22) Blue - Mai Yamane
I want to feel this "zen" toward the universe
Everything is clearer now
Life is just a dream, you know
That's never ending
I'm ascending
23) Neo Universe - L'Arc en Ciel (Japanese)
I love the energy and drive behind this song
You're gentle as the wind
Free as the sea
You fly through this world without fear
Neo Universe
Even if it ends up a tragedy
I'm glad that I could meet you
24) On the Steps of the Palace - Kim Crosby
We all face our own moments "in the goo" making a big decision
Although how can you know who you are till you know what you want--
which you don't-- so, then, which do you pick?
Where you're safe, out of sight and yourself, but where everything's wrong?
Or where everything's right and you know that you'll never belong?
25) Bust a Move - Young MC
I loved rap back when rap was funny... come on. Wild Thing? LOL!
From frustration, you first inclination
Is to become a monk and leave the situation
But every dark tunnel has a light of hope
So don't hang yourself with a celibate rope
26) Park Amsterdam (The Whole Story) - Sakamoto Maaya
Life should be this sort of adorable fairy tale
Met the queen of hearts while out dancing on the lake
and she asked us to a party: "You can bring some friends, but don't be late"
Climbed aboard a bus and it drove us to the castle
but we didn't have to pay 'cause the driver was the jester's brother
Sadly sighed the king 'cause somebody took his cake
So we gave him some of ours and he smiled so wide he ate his plate!
27) Hold On to the Nights - Richard Marx
This song is the essence of how it feels to fall in love
Every time I look into your eyes I'm helplessly aware
That the someone I've been searching for is right there
28) For Crying Out Loud - Meat Loaf
This song is the essence of how it feels to love someone with your whole being
For taking and for giving and for playing the game
For praying for my future in the days that remain
Oh, love, for that I hold you
29) Ring - Sakamoto Maaya (Japanese)
The first dance at our wedding
I'll bet my hopes and all my dreams on this
And let us promise to embrace the intensity of that day
And live for the future that blooms tomorrow
30) Listen to My Heart - BoA (Japanese)
Just a great dance beat and kind of a cool song
Ooh baby, the word love is too heavy, I can't say it...
But I want to gaze at you, I want you to gaze at me
31) Buenos Aires - Madonna
My MOTTO:
You ought to know what you're gonna get in me?
Just a little touch of star quality!
Download it here