Ladies and gentlemen, I just had the funniest set of simsness EVAR. Please follow me to the gallery I am calling... The Sims' Day of Sluttiness....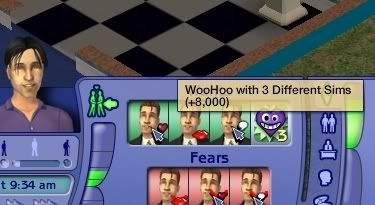 Now, never mind that my Peter is a married man, his aspiration is apparently to WooHoo with 3 different sims. So I set out today to help him achieve that goal.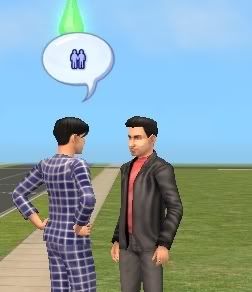 I had him invite Matt over. Now, what follows isn't exactly a routine seduction.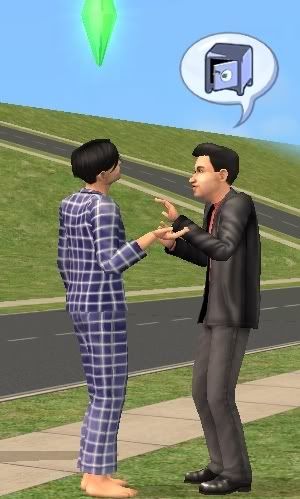 They bond over breaking into other people's bank safes...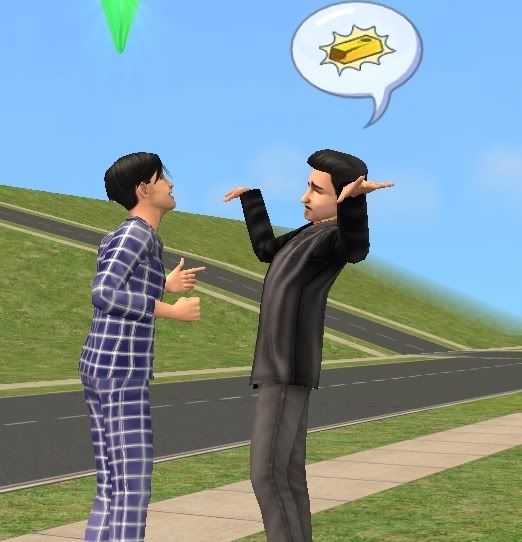 And Matt apparently talks about appearing on Solid Gold.
I have never seen more anti-peace people than in this game. It's insane.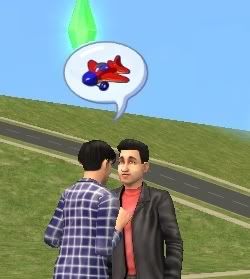 "C'mon baby, I'll take you to the mile-high club on Petrelli Air."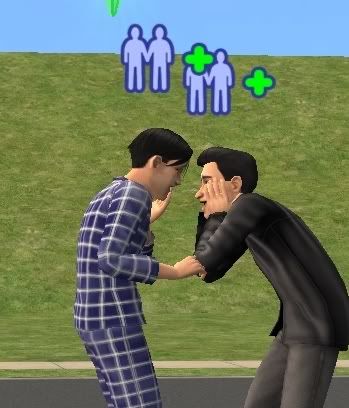 Giggling fools.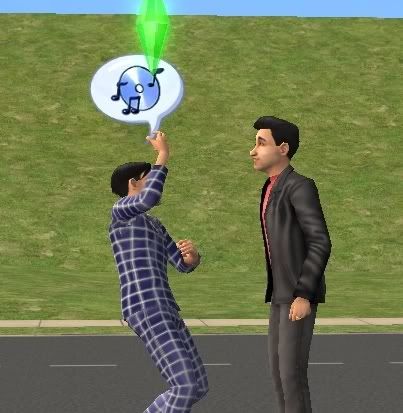 Air Guitar by Peter Petrelli.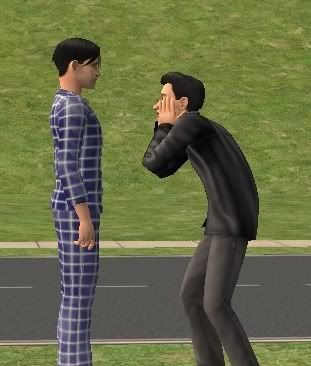 "Oh man, you look like such a loser..."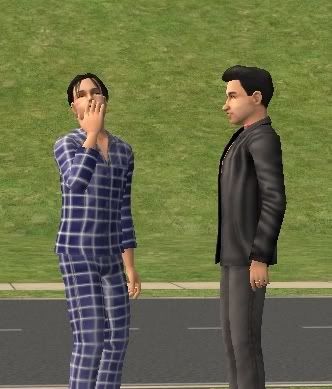 "Yeah, well, you're a yawner, pal."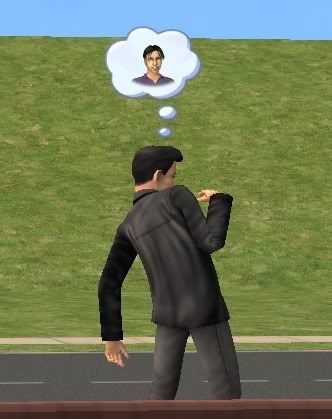 Still, Matt seems to be attracted to him.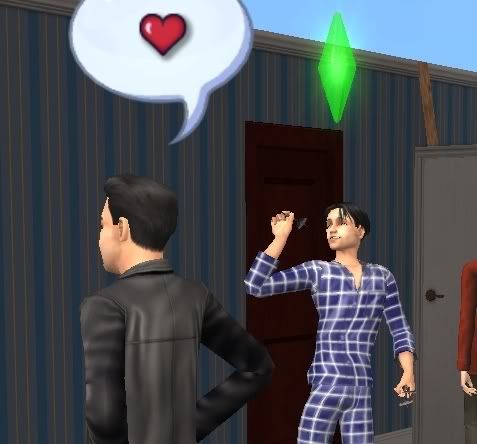 He awkwardly brings up the subject while lingering perilously close to the dartboard...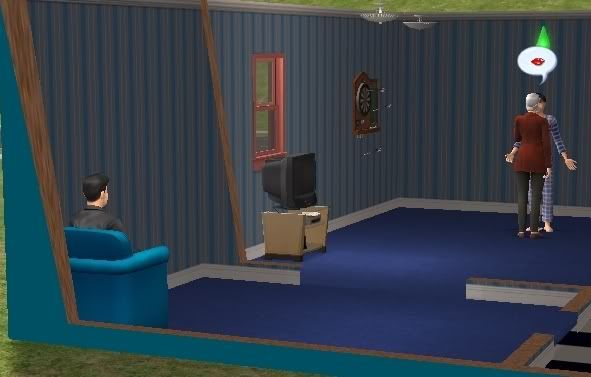 ...but ends up sitting alone while Peter panics and asks Mom for advice.
Meanwhile, at the Hub...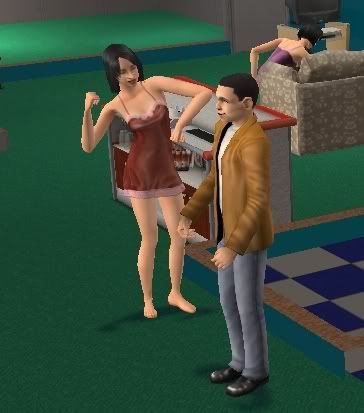 Gwen's dancing around in her negligee. How can I NOT have Owen flirt with her?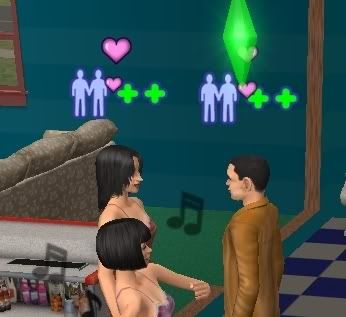 But no sooner have the first sparks of crushiness been ignited then in comes Tosh...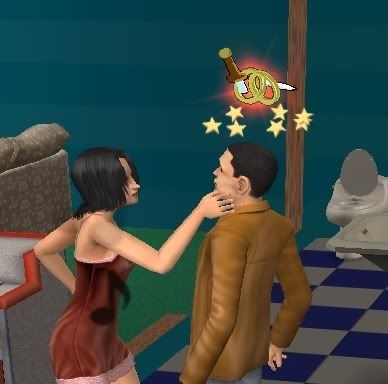 ...and all hell breaks loose.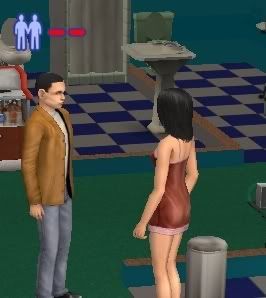 Owen and Gwen have quite the love-hate relationship for the rest of the day.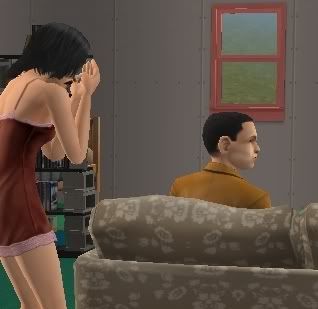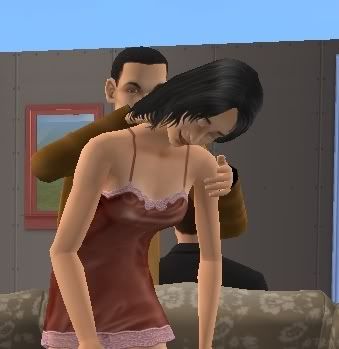 She sobs... he backrubs... she melts...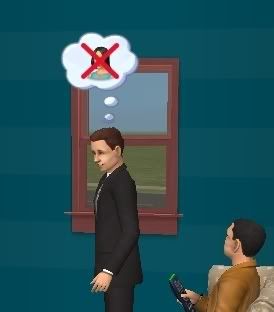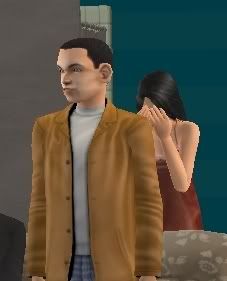 Ianto is nonplussed by the whole situation... she sobs some more.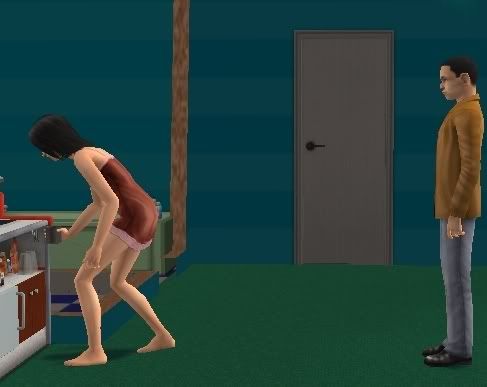 As Gwen turns to drown her sorrows, I decide it's time for Owen to butter her up a little.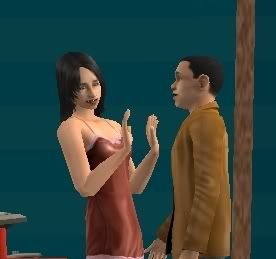 Well, she's having NONE of it...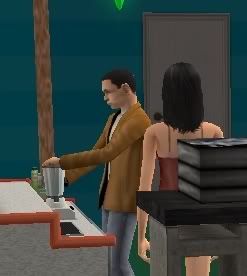 and now it's Owen who turns to the drink. That's it, these two just need to duke it out.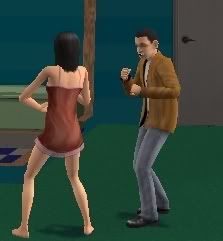 NOW everything will be fine, won't it???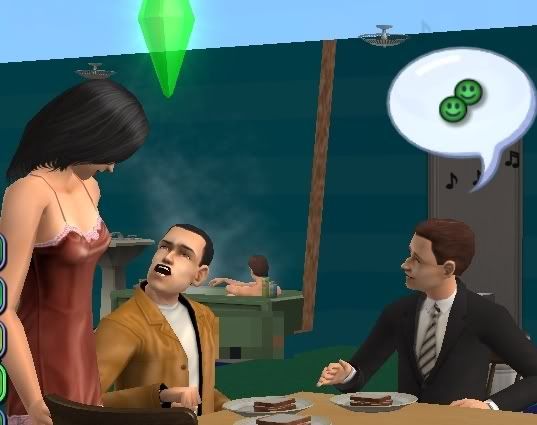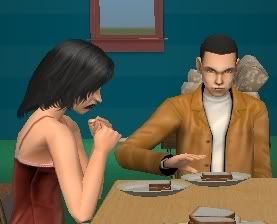 ...OK, maybe not.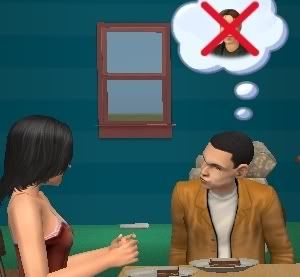 "It's Jack, isn't it? You're cheating on me with Jack!"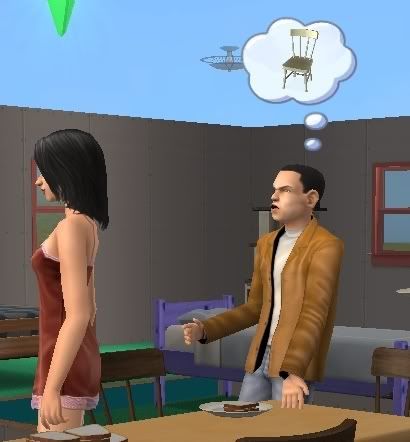 Most women put up walls. With Gwen, it's a chair. And it's STILL too much for Owen to deal with.
DANCE BREAK!!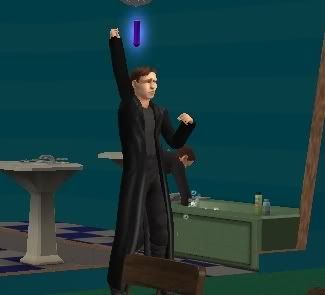 And now, things get slashy.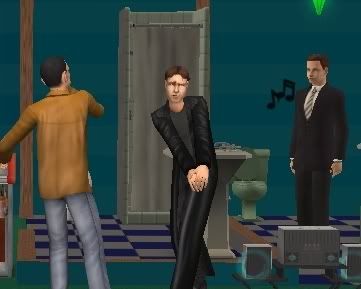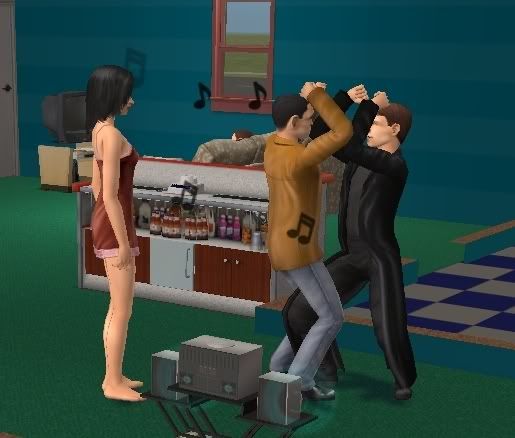 Gwen has a look at this new incredibly awkward pairing...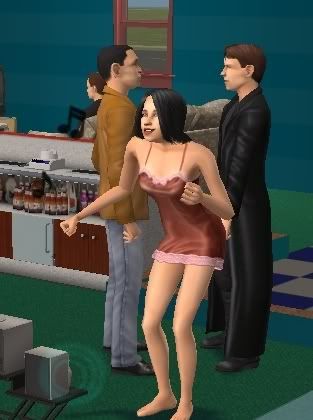 ...and decides to shake her can in their face.
Speaking of cans, Ianto knows he'd better make his move quick, while Owen's ON the can.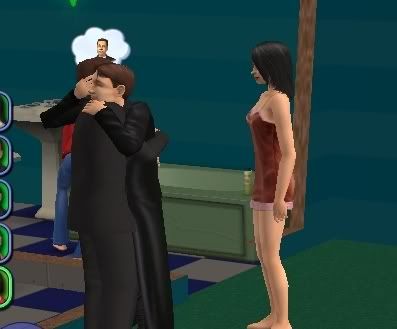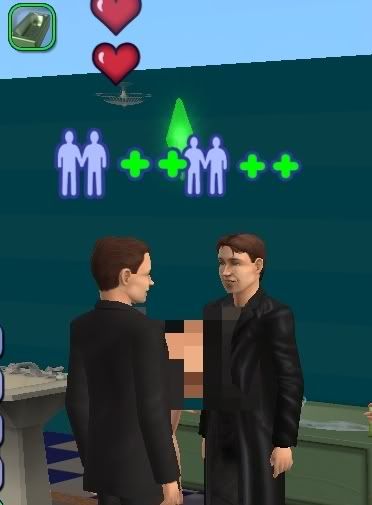 What's this? What's this!?!?!?!?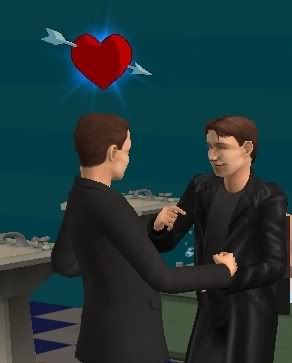 SQUEEEE!!!!
(Please note the hearts only on Ianto's side.... this is, sadly, significant.)
I take the two of them to bed, and they are suitably adorable...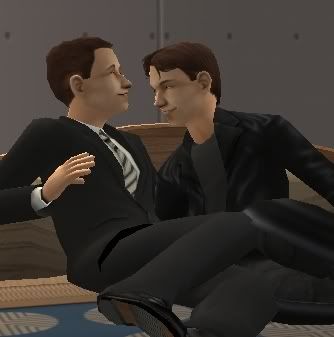 "Why Jack, where are you grabbing me!?"
But when Ianto tries to woo-hoo him???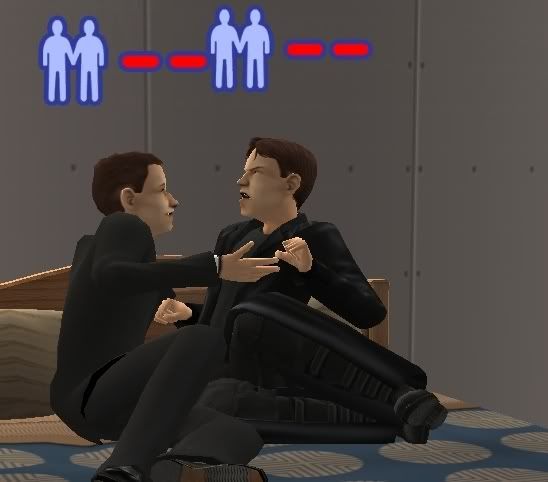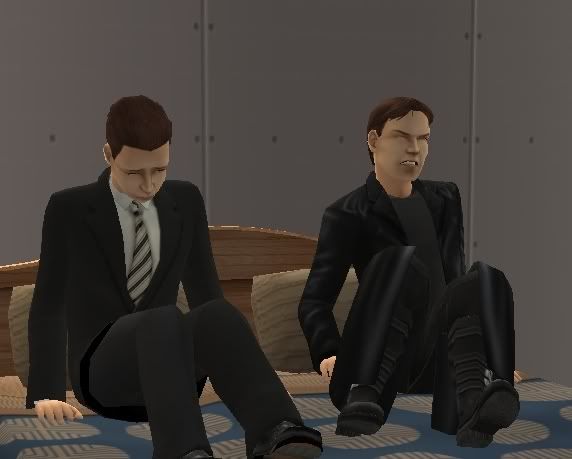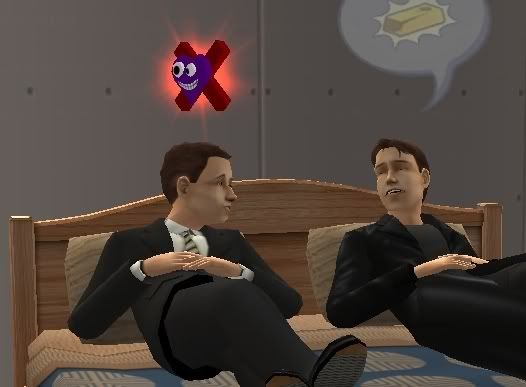 COCK BLOCKED!!!!!!!!!!!!!!!!!!!!!!!!!!!!!!!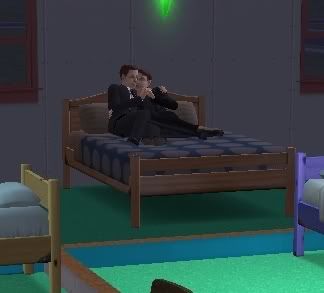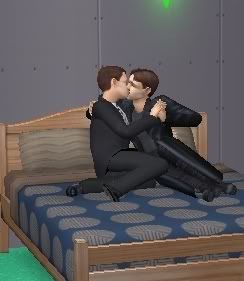 Apparently Jack needs to be romanced a little more. (LOLWTF.) But as I'm making sure they don't hate each other, I hear the little bells chiming from elsewhere in the house and...
..guess who's fallen in love right under my nose!!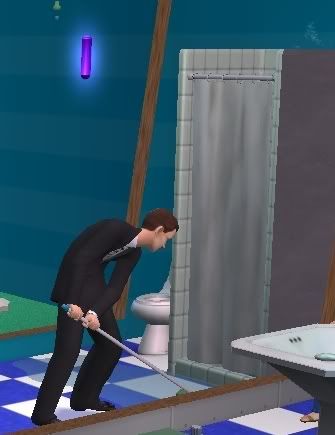 Ianto finds refuge in his meaningless tasks...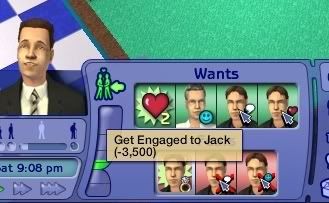 ...but getting engaged to Jack is now one of his Fears, and I have this weird sense this is all horribly out of character.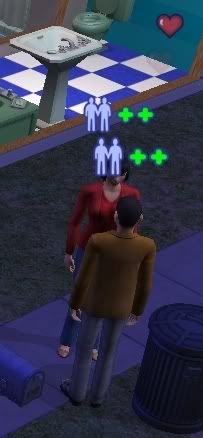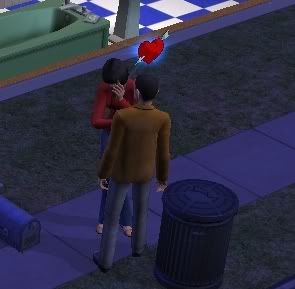 Oh well, at least someone has a happy ending, for now.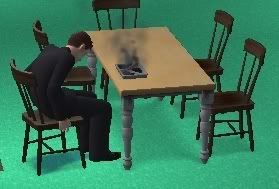 Poor Ianto!!
The Soul is::
hysterical